Adobe CS6 Master Collection Doesn't Work in Microsoft Windows 8 (32 or 64 bit)
Everyone was wondering why Adobe decided to reduce its prices by 15% and this is one reason why: The Adobe CS6 Master Collection doesn't install properly in Microsoft Windows 8 (32 or 64 bit)! Of course there will be a downloadable update that you have to pay for soon but it's just annoying having software that can't be installed every time a new version of Windows comes out. I've only has this type of trouble with Adobe software so far… Why can't it just include a regular installer?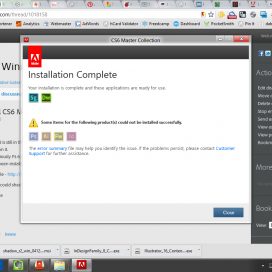 Photoshop CS6 sometimes installs but an error message comes up when trying to install the CS6 Master Collection in Windows 8. Adobe Acrobat, Dreamweaver and Photoshop can kind of be installed at the moment. The rest of the software installation just gets denied.
*Adobe still hasn't fixed the line drawing/scroll bug in Illustrator CS6 as well. Even though they have known about it since CS3 came out.
Here is the Adobe CS6 Master Collection installation error log, just in case you wanna have a look.
Exit Code: 6
Please see specific errors and warnings below for troubleshooting. For example,  ERROR: DF012, DF024 ... WARNING: DW065, DW066 ...

-------------------------------------- Summary --------------------------------------

 - 0 fatal error(s), 16 error(s), 74 warning(s)

WARNING: DW066: OS requirements not met for {CC006FD6-00EF-46FC-ACA0-7A28EFF44D20} Adobe Media Encoder CS6 6.0.0.0

WARNING: DW066: OS requirements not met for {C7B1C1B3-368D-4C32-A818-83F1554EB398} AdobeColorCommonSetRGB CS6 4.0.0.0

WARNING: DW066: OS requirements not met for {0C4E7429-E920-4125-980E-029A87AE0A4D} AdobeColorCommonSetCMYK CS6 4.0.0.0

WARNING: DW066: OS requirements not met for {0E0AA043-65AC-4A20-AAD6-9B4C7667309B} AdobeColorEU CS6 4.0.0.0

WARNING: DW066: OS requirements not met for {26F763C9-076F-473D-9A0E-4050C973737C} AdobeColorJA CS6 4.0.0.0

WARNING: DW066: OS requirements not met for {42C0738D-8D50-45B7-BC51-4BC609133E3A} AdobeColorNA CS6 4.0.0.0

WARNING: DW066: OS requirements not met for {94FEA41F-7345-429F-AA31-5C615F24CE29} Adobe WinSoft Linguistics Plugin CS6 1.3.0.0

WARNING: DW066: OS requirements not met for {784B5277-7B8A-4058-8F5D-A146F8BA5F7B} Adobe Hunspell Linguistics Plugin CS6 1.0.0.0

WARNING: DW066: OS requirements not met for {7CA3FAD4-7B82-473C-8207-5A283E90742A} Adobe WinSoft Linguistics Plugin CS6 x64 1.3.0.0

WARNING: DW066: OS requirements not met for {29DB26AB-81CE-41D6-B0C9-BE15E36C87C6} Adobe Hunspell Linguistics Plugin CS6 x64 1.0.0.0

WARNING: DW066: OS requirements not met for {1F955A4A-F365-4379-AEE2-B7C83E1AA883} Adobe Photoshop CS6 Support 13.0.0.0

WARNING: DW066: OS requirements not met for {F48E8FE8-8D40-1014-8129-D1C5ABFD087E} Adobe InDesign CS6 Application Base Files2 8.0.0.0

WARNING: DW066: OS requirements not met for {B8CD128B-8D40-1014-B944-C86071713DAE} Adobe InDesign CS6 Application Feature Set Files 8.0.0.0

WARNING: DW066: OS requirements not met for {AA9DC298-8D46-1014-853D-9FC0306FBFCE} Adobe InDesign CS6 Common Base Files 8.0.0.0

WARNING: DW066: OS requirements not met for {D38116C8-C472-4BB0-AD6F-0C1DD1320D1D} AdobeHelp 4.0.0.0

WARNING: DW066: OS requirements not met for {83463106-DD1C-4FE5-A61C-DF6715472AD4} Adobe Extension Manager CS6 6.0.0.0

WARNING: DW066: OS requirements not met for {EB2A8CD4-B247-4810-A294-E3DB8EDC6060} Adobe CSXS Extensions CS6 3.0.0.0

WARNING: DW066: OS requirements not met for {36682D68-3834-487E-BA49-DFA4AB0A2E32} Adobe CSXS Infrastructure CS6 3.0.0.0

WARNING: DW066: OS requirements not met for {EFBC1075-F890-4293-A0D1-04BE66EE2AB3} Adobe ExtendScript Toolkit CS6 3.8.0.0

WARNING: DW066: OS requirements not met for {7E91BB17-16A1-42CE-9502-D6C98BE04920} PDF Settings CS6 11.0.0.0

WARNING: DW066: OS requirements not met for {00496505-D56B-4B07-A8C5-70A0B4E689F7} Adobe Bridge CS6 (64 Bit) 5.0.0.0

WARNING: DW066: OS requirements not met for {DC00A3E1-9C61-4B11-8070-B592E68D2B3C} Adobe Linguistics CS6 6.0.0.0

WARNING: DW066: OS requirements not met for {8085C16A-3148-40B4-BC8B-12ED59C9C478} Recommended Common Fonts Installation x64 2.0.0.0

WARNING: DW066: OS requirements not met for {63594DD4-0241-422A-93A5-B6530040E1C7} Required Common Fonts Installation x64 2.0.0.0

WARNING: DW066: OS requirements not met for {0377892E-FCAC-46EC-AA70-C6AC8A86A81F} Dynamic Link Media Server 1.0.0.0

WARNING: DW066: OS requirements not met for {99FE4191-AC6B-11E0-B602-00215AEA26C9} Microsoft Visual C++ 2005 Redistributable Package (x64) 6.0.2900.2180

WARNING: DW066: OS requirements not met for {DE7C6FA1-AF75-48A8-B495-CFAD529BCC3D} Recommended Common Fonts Installation 2.0.0.0

WARNING: DW066: OS requirements not met for {311CDC89-AC18-4344-9EC9-0225328C73D3} Required Common Fonts Installation 2.0.0.0

WARNING: DW066: OS requirements not met for {B98E0DCB-1A75-4394-9813-3A114AA3891D} Adobe Mini Bridge CS6 2.0.0.0

WARNING: DW066: OS requirements not met for {97BA0109-F6BE-4F50-8904-C19442D7216E} Adobe Bridge CS6 5.0.0.0

WARNING: DW066: OS requirements not met for {8467887D-92F1-435C-B387-A7551B88EC70} Adobe NPS Panel 1.0.0.0

WARNING: DW066: OS requirements not met for {C41A769E-27ED-44F7-8A11-F2E32F538E05} Adobe Linguistics CS6 x64 6.0.0.0

WARNING: DW066: OS requirements not met for {F683ECF1-07EC-43CB-90B0-8F325A8C09C1} Adobe Illustrator CS6 Support 16.0.0.0

WARNING: DW066: OS requirements not met for {48623899-C152-457D-9B30-1F957332AC2F} AdobeColorPhotoshop CS6 4.0.0.0

WARNING: DW066: OS requirements not met for {78E38D75-4D92-4F6E-B631-17A436BED680} AdobeColorVideoProfilesCS CS6 4.0.0.0

WARNING: DW066: OS requirements not met for {2A075BB4-E976-4278-BF3F-E5C6945D84C0} SonicWrappers_bl 6.0.0.0

WARNING: DW066: OS requirements not met for {185F9795-9663-4F13-9EF9-307A282ADB5A} SonicWrappers_ph 6.0.0.0

WARNING: DW066: OS requirements not met for {674E5E7D-A6F8-49B4-A026-EB3922144B24} AIR for Apple iOS support (FB) 3.1.0.0

WARNING: DW066: OS requirements not met for {D2583A3E-399C-45D7-8AF1-FE5BAFC946CF} AIR for Apple iOS support (FP) 3.0.0.0

WARNING: DW066: OS requirements not met for {C0C7DC90-C8DF-46DA-BA21-848889DAFD11} Adobe Dreamweaver Widget Browser 1.0.0.0

WARNING: DW066: OS requirements not met for {DBCFA16A-59EC-4DAF-98D1-B4E2C2A9E7B4} Adobe Encore CS6 Support 6.0.0.0

WARNING: DW066: OS requirements not met for {EB5C092C-8D46-1014-A129-F57E0145A7FD} Adobe InDesign CS6 Icon Handler 8.0.0.0

WARNING: DW066: OS requirements not met for {1EA52983-8EDD-1014-A956-E9729DA4AEEB} Adobe Toolhints CS6 2.0.0.0

WARNING: DW066: OS requirements not met for {488DE6DF-6D55-1014-8588-B572E54263B5} DPS Desktop Tools CS6 2.0.0.0

WARNING: DW066: OS requirements not met for {7483525E-26E8-4748-870D-1F064AB8AA83} AdobeIdeaPluginCS6 x64 1.0.0.0

WARNING: DW066: OS requirements not met for {2DAEE15D-8D47-1014-9FF6-ACA9093B5359} Adobe InDesign CS6 Icon Handler x64 8.0.0.0

WARNING: DW066: OS requirements not met for {1EB907F5-3F33-4495-88E6-8B97B519291F} Adobe Prelude CS6 Support 1.0.0.0

WARNING: DW066: OS requirements not met for {E8AD3069-9EB7-4BA8-8BFE-83F4E69355C0} CS6 Master Collection 6.0.0.0

WARNING: DW066: OS requirements not met for {AC76BA86-1033-F400-7760-000000000005} Acrobat Professional 10.0.0.0

WARNING: DW066: OS requirements not met for {59EBB3D9-AA2A-4068-AB48-75ED6879B5F9} AIR for Apple iOS Support Wrapper 3.1.0.0

WARNING: DW065: Display requirements not met for {A4ED5E53-7AA0-11E1-BF04-B2D4D4A5360E} Adobe Dreamweaver CS6 12.0.0.0

WARNING: DW066: OS requirements not met for {A4ED5E53-7AA0-11E1-BF04-B2D4D4A5360E} Adobe Dreamweaver CS6 12.0.0.0

WARNING: DW066: OS requirements not met for {8FDB26FC-7AA0-11E1-BF04-E25246635842} Adobe Dreamweaver CS6_AdobeDreamweaver12en_USLanguagePack 12.0.0.0

WARNING: DW066: OS requirements not met for {CA7C485C-7A89-11E1-B2C8-CD54B377BC52} Adobe Fireworks CS6 12.0.0.0

WARNING: DW066: OS requirements not met for {05E1E278-7A8D-11E1-A0B9-FC0245DB7244} Adobe Fireworks CS6_AdobeFireworks12en_USLanguagePack 12.0.0.0

WARNING: DW066: OS requirements not met for {E0D1B182-6827-4AD8-9C1D-CFFD4314DFE4} Adobe Prelude CS6 1.0.0.0

WARNING: DW066: OS requirements not met for {438F42BD-8A0D-4D39-A50B-08D6C58B6014} Adobe Prelude CS6_AdobePrelude1en_USLanguagePack 1.0.0.0

WARNING: DW066: OS requirements not met for {46251F95-B2F8-484A-9B5B-8C0E5A43A202} Adobe Encore CS6 6.0.0.0

WARNING: DW066: OS requirements not met for {145F0B3B-2643-43A0-9BBC-ADAA51223F5F} Adobe Encore CS6_AdobeEncore6en_USLanguagePack 6.0.0.0

WARNING: DW066: OS requirements not met for {9D3BB9DA-1F59-4DCF-A0BB-691FA8EA2582} Adobe Illustrator CS6 Core (64 Bit) 16.0.0.0

WARNING: DW066: OS requirements not met for {26BF5EE3-8C29-46DA-BA87-D04DB7C84197} Adobe Illustrator CS6 Core (64 Bit)_AdobeIllustrator16en_GBLanguagePack_x64 16.0.0.0

WARNING: DW066: OS requirements not met for {3289C0E8-78B9-47D4-98E5-F25BFF1CBED4} Adobe Photoshop CS6 Core_x64 13.0.0.0

WARNING: DW066: OS requirements not met for {E42CAADF-4613-4257-B404-1FB8ECC18695} Adobe Photoshop CS6 International English Language Pack_x64_AdobePhotoshop13-en_GB_x64 13.0.0.0

WARNING: DW066: OS requirements not met for {CFB770D7-8D43-1014-922B-CC2715FADE3F} Adobe InDesign CS6 Application Base Files 8.0.0.0

WARNING: DW066: OS requirements not met for {6C98A8B6-8D40-1014-AE3E-EF3F5E8D39AE} Adobe InDesign CS6 Common Language Files_AdobeInDesign8CommonLang-en_US 8.0.0.0

WARNING: DW066: OS requirements not met for {91E01984-8D3F-1014-B925-DFD46364B983} Adobe InDesign CS6 Application Language Files_AdobeInDesign8AppLang-en_GB 8.0.0.0

WARNING: DW066: OS requirements not met for {308066E3-8D40-1014-B993-EF118FFB1E39} Adobe InDesign CS6 Common Language Files_AdobeInDesign8CommonLang-en_GB 8.0.0.0

----------- Payload: {CFA46C39-C539-4BE9-9364-495003C714AD} Adobe SwitchBoard 2.0 2.0.0.0 -----------

WARNING: DF029: ARKServiceControl::StartService: Service not started/stopped SwitchBoard. Current State: 0 Exit Code: 0 Service Specific Exit Code: 0(Seq 1)

----------- Payload: {8085C16A-3148-40B4-BC8B-12ED59C9C478} Recommended Common Fonts Installation x64 2.0.0.0 -----------

WARNING: DF054: Unable to read Adobe file version for file path 'C:\Windows\Fonts\ACaslonPro-Bold.otf'(Seq 4)

ERROR: DF012: Unable to find file(Seq 4)

ERROR: DF024: Unable to preserve original file at "C:\Windows\Fonts\ACaslonPro-Bold.otf" Error 32 The process cannot access the file because it is being used by another process.(Seq 4)

ERROR: DW063: Command ARKDeleteFileCommand failed.(Seq 4)

----------- Payload: {63594DD4-0241-422A-93A5-B6530040E1C7} Required Common Fonts Installation x64 2.0.0.0 -----------

WARNING: DF054: Unable to read Adobe file version for file path 'C:\Windows\Fonts\AdobeArabic-Regular.otf'(Seq 7)

ERROR: DF012: Unable to find file(Seq 7)

ERROR: DF024: Unable to preserve original file at "C:\Windows\Fonts\AdobeArabic-Regular.otf" Error 32 The process cannot access the file because it is being used by another process.(Seq 7)

ERROR: DW063: Command ARKDeleteFileCommand failed.(Seq 7)

----------- Payload: {DE7C6FA1-AF75-48A8-B495-CFAD529BCC3D} Recommended Common Fonts Installation 2.0.0.0 -----------

WARNING: DF054: Unable to read Adobe file version for file path 'C:\Windows\Fonts\ACaslonPro-Bold.otf'(Seq 3)

ERROR: DF012: Unable to find file(Seq 3)

ERROR: DF024: Unable to preserve original file at "C:\Windows\Fonts\ACaslonPro-Bold.otf" Error 32 The process cannot access the file because it is being used by another process.(Seq 3)

ERROR: DW063: Command ARKDeleteFileCommand failed.(Seq 3)

----------- Payload: {311CDC89-AC18-4344-9EC9-0225328C73D3} Required Common Fonts Installation 2.0.0.0 -----------

WARNING: DF054: Unable to read Adobe file version for file path 'C:\Windows\Fonts\AdobeArabic-Regular.otf'(Seq 6)

ERROR: DF012: Unable to find file(Seq 6)

ERROR: DF024: Unable to preserve original file at "C:\Windows\Fonts\AdobeArabic-Regular.otf" Error 32 The process cannot access the file because it is being used by another process.(Seq 6)

ERROR: DW063: Command ARKDeleteFileCommand failed.(Seq 6)

----------- Payload: {CA7C485C-7A89-11E1-B2C8-CD54B377BC52} Adobe Fireworks CS6 12.0.0.0 -----------

WARNING: DF012: File/Folder does not exist at D:\Downloaded\Adobe CS6 Master Collection\Adobe CS6\payloads\AdobeFireworks12-mul\OEM(Seq 2141)

----------- Payload: {05E1E278-7A8D-11E1-A0B9-FC0245DB7244} Adobe Fireworks CS6_AdobeFireworks12en_USLanguagePack 12.0.0.0 -----------

WARNING: DF012: File/Folder does not exist at D:\Downloaded\Adobe CS6 Master Collection\Adobe CS6\payloads\AdobeFireworks12en_USLanguagePack\OEM(Seq 76)

ERROR: DW050: The following payload errors were found during install:

ERROR: DW050:  - Required Common Fonts Installation: Install failed

ERROR: DW050:  - Required Common Fonts Installation x64: Install failed

ERROR: DW050:  - Recommended Common Fonts Installation x64: Install failed

ERROR: DW050:  - Recommended Common Fonts Installation: Install failed

-------------------------------------------------------------------------------------