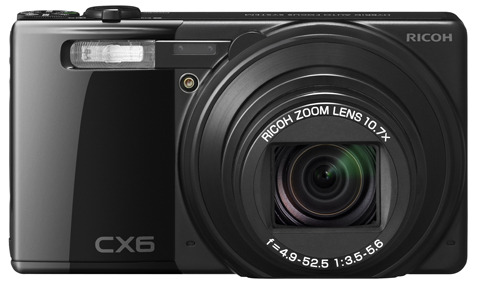 2011-11-11th: It's finally be announced. December 3rd is the release date.
SD/SDHC card, a 3-inch (1,230,000 dot screen) Sony WhiteMagic LCD screen 1.7 times brighter than on the CX5 previous model, 1cm macro, 10mp, focusing speed of 0.1 seconds, 10.7x optical wide-angle zoom, 1/2.3″ backlit CMOS sensor, 28-300mm equivalent lens with sensor-shift image stabilization, 5fps burst mode,  40MB of storage on board
Shooting modes: aperture priority mode, shutter priority mode, bleach bypass, soft focus, cross process, toy camera, miniaturize, high contrast B&W, dynamic range double shot
13 scene modes: cooking, night landscape multi-shot, fireworks, golf swing continuous, zoom macro, pets, portrait, discreet, night portrait, sports, landscape, skew correction, text
Price: about 42,000 yen, £260, US$412
Battery: about 4200 yen.
Cons: Small joystick style controller
Items
Specifications
Effective pixels
Approximately 10.00 million
Image sensor
1/2.3-inch CMOS sensor (total pixels: approx. 10.60 million)
Lens
Focal length
f=4.9-52.5 mm (Equivalent to 28-300 mm on a 35 mm film cameras. With step zoom set, option of 8 fixed lengths: 28 mm, 35 mm, 50 mm, 85 mm, 105 mm, 135 mm, 200 mm, and 300 mm.)
F-aperture
F3.5 (wide-angle) – F5.6 (telephoto)
Shooting
distance (from front of lens)
Normal shooting: Approx. 30 cm – infinity (wide-angle), approx. 1.5 m – infinity (telephoto)
Macro shooting: Approx. 1 cm – infinity (wide-angle), approx. 28 cm – infinity (telephoto), approx. 1 cm – infinity (zoom macro)
Construction
10 elements in 7 groups (4 aspherical lens elements with 5 surfaces)
Zoom
Optical zoom: 10.7x (Equivalent to 28-300 mm on a 35 mm film cameras.)
Super-resolution zoom: 2.0x, up to 21.4x (equivalent to 600 mm) when used with optical zoom
Digital zoom: 4.8x, up to 103x (equivalent to 2880 mm) when used with optical zoom and super-resolution zoom
Auto resize zoom: 5.7x*1, up to 61.0x*1 (equivalent to 1710 mm) when used with optical zoom
Focus mode
Multi AF / Spot AF / Face-priority Multi AF (contrast AF method, with AF auxiliary light) / Subject-tracking AF / Multi-target AF (contrast AF method) / Manual Focus / Snap / ∞ (fixed-focus method)
Image stabilizer
Image sensor shift method image stabilizer
Shutter speed
Still Image*2
8, 4, 2, 1 – 1/2000 sec.
Movie
1/30 – 1/2000 sec.
Continuous shooting
Continuous shooting speed *3
Approx. 5 frames/sec. (when shooting 10M 4:3F, the speed from the 12th shot on is 3 frames/sec.)
Continuous shooting capacity
999 pictures
Exposure control
Exposure metering mode
Multi (256-segment) / Center-weighted Light Metering / Spot Metering
Exposure mode
Program AE / Aperture priority AE / Shutter speed priority AE
Exposure compensation
Manual (-2.0 to +2.0 EV in increments of 1/3 EV) / Auto Bracketing (-0.5 EV, ±0, +0.5 EV)
Exposure range (auto mode, center-weighted metering)
Wide-angle: 3.2 – 16.2 EV, Telephoto: 4.6 – 18.4 EV
(Exposure range for auto ISO calculated using EV for ISO 100.)
Note: At 6.0 EV or lower, each drop of 1.0 EV is associated with a 0.5 EV drop in brightness. Brightness drops by no more than –1.0 EV.
ISO sensitivity (standard output sensitivity)
Auto / ISO 100 / ISO 200 / ISO 400 / ISO 800 / ISO 1600 / ISO 3200
White balance
Auto / Multi-pattern Auto / Outdoors / Cloudy / Incandescent 1 / Incandescent 2 / Fluorescent / Manual, White balance bracket function
Flash
Flash mode
Auto, Anti Red-eye, Flash On, Flash Synchro, Flash Off
Flash range
Approx. 20 cm – 4.0 m (wide-angle), approx. 28 cm – 3.0 m (telephoto) (Auto ISO with maximum ISO of 1600; measured from front of lens.)
Flash compensation
±2.0 EV in 1/3 EV steps
Monitor
3.0-inch transparent LCD (approx. 1.23 million dots)
Shooting mode
Still Image
Auto / My Settings / Aperture/Shutter-Speed Priority / Continuous / Creative Shooting (Dynamic Range Double Shot, Miniaturize, Bleach Bypass, High Contrast B&W, Soft Focus, Cross Process, Toy Camera) / Scene (Portrait, Landscape, Discreet, Night Portrait, Night Landscape Multi-shot, Fireworks, Cooking, Sports, Pets, Golf Swing Continuous, Zoom Macro, Skew Correct, Text) / Scene Auto
Movie
Movie / Snap Movie
Picture quality *4
F (Fine) / N (Normal)
No. of Pixels Recorded
Still Image/Multi-Picture
3648 x 2736, 3648 x 2432, 2736 x 2736, 3648 x 2048, 2592 x 1944, 2048 x 1536, 1728 x 1296 (multi-picture only), 1280 x 960, 640 x 480
Text
3648 x 2736, 2048 x 1536
Movie
1280 x 720, 640 x 480
Recording Media
SD memory card, SDHC memory card (up to 32 GB), Internal memory (approx. 40 MB)
Eye-Fi card (X2 series) *5
Recording File Format
Still Image
JPEG (Exif ver. 2.3) *6
Multi-picture
CIPA DC-007-2009 Multi-Picture Format
Movie
AVI (Open DML Motion JPEG Format compliant)
Compression method
JPEG Baseline method compliant
Other Major Shooting Functions
Still Image/Multi-Picture/Text
Continuous mode, Self-timer (operation time: approx. 10 seconds, approx. 2 seconds, Custom), Interval shooting (shooting interval: 5 seconds to 1 hour, in increments of 5 seconds), Color bracket, Focus bracket
Movie
Optical zoom, Stereo sound, Shoot with splitting (available number of split point: up to 10 points)
Display
AE/AF target shift, Histogram display, Zoom assist display, Grid guide display, Electronic level
Other Major Playback Functions
Still Image/Multi-Picture/Text
Thumbnail view, Enlarged view (maximum ×16), Resize, Level Compensation, White Balance Compensation, Skew Correction, Trim, Flag Function (the display order option is available), Slide show, DPOF
Movie
Split Movie, Flag Function (the display order option is available)
Interface
USB/AV Out dual terminal: USB 2.0 compliant, mass storage compatible*7
HDMI Micro output terminal: Type D
Video Signal Format
NTSC, PAL
Power Supply
Rechargeable Battery (DB-100) x 1
Battery Consumption *8
Using the DB-100, approx. 260 pictures (when Sleep is OFF*9)
Dimensions (W × H × D)
103.9 mm x 58.9 mm x 28.5 mm (23.1 mm at thinnest part)
Weight (approx.)
Approx. 201 g (including the supplied battery and SD memory card)
Approx. 180 g (body only)
Operating temperature
0°C to 40°C
*1VGA image size
*2Shutter speed upper and lower limits vary depending on Shooting Mode and Flash Mode.
*3Values measured under Ricoh measurement conditions using a Panasonic PRO HIGH SPEED 8GB SDHC memory card. The continuous shooting speed and number of pictures will vary depending on the shooting conditions, the type of recording media used, the condition of the recording media, etc.
*4The picture quality modes which can be set vary depending on the image size.
*5Eye-Fi cards are approved for use in the country of purchase only. For more information on Eye-Fi cards, visit the Eye-Fi webpage http://www.eyefi.co.jp).
*6Compatible with DCF and DPOF. DCF is the abbreviation of the JEITA standard "Design rule for Camera File system." (Full compatibility with other devices is not guaranteed.)
*7Mass storage driver is compatible with Windows® XP, Windows Vista®, Windows® 7, Mac OS X 10.1.2-10.6.7.
*8Shooting capacity was measured using CIPA-standard parameters. These are only estimates; performance may vary depending on usage conditions.
*9When Sleep is 10 seconds, the number is approximately 300 pictures.
---
The Ricoh CX6 looks like it is going to be great camera and these CX cameras have so many filters and fun things you can do in the menu. I just wonder if they will be doing anything 3D later on.
I looked at the Ricoh CX5 yesterday and it looked pretty nice. I just wish they had a better range of colors and I could completely turn off all the icons when taking shots. Even the focus points & f-stop. Maybe that's only me though. One strange little quirk or thing with the camera is that for some reason the icons can't be turned off if the memory is full. But it isn't like you can take a shot then…
The Ricoh CX6 looks like it will be out soon. Maybe September or October if we are lucky. I just hope they fix the menu. That tiny little joystick is a bit tricky to use at times and you also have to trace out a little c shape to get to the lower settings down the bottom.
http://gr-digital.seesaa.net (Japanese Website) said the camera should be out in August but it might not be ready until September. Ricoh hasn't said anything yet.
Glen Rowell
Click here to read about huge problems with the new Sony DSC-WX30 & DSC-TX55 cameras.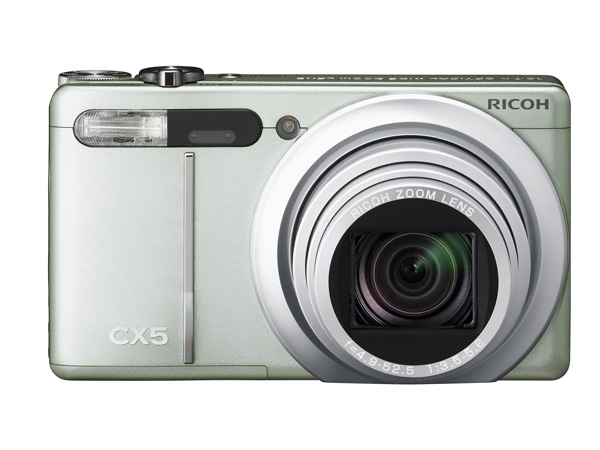 ---
Ricoh CX5 Camera Specs.
Optical sensor

CMOS
Lens aperture

f/3.5-5.6
Flash type

Built-in
Megapixels

10 megapixels
LCD display size

3 inch
Optical zoom

10.7 x

---
General Specs.
Camera Type

Digital compact
Dimensions (H x W x D)

58.6 x 101.5 x 29.4 mm
Weight

197 g

---
Still images
Still image format

JPEG

---
Video
Video capture format(s)

AVI (Motion JPEG)

---
Sensor
• 1/2.3″ Type CMOS
• 10.00 million effective pixels
• 10.60 total pixels
Image sizes
• 3648 x 2736
• 3648 x 2432
• 2736 x 2736
• 3648 x 2048
• 2592 x 1944
• 2048 x 1536
• 1728 x 1296 (Multi-Picture only)
• 1280 x 960
• 640 x 480
Movie clips
• 1280 x 720
• 640 x 480
• 320 x 240
Text
• 3648 x 2736
• 2048 x 1536
File formats
• JPEG (Exif v2.3)
• CIPA DC-007-2009 Multi-Picture Format
• AVI (Open DML Motion JPEG Format compliant)
• WAVE (Sound Files)
Lens
• 28 – 300mm (35mm equiv)
With Step Zoom set: 28mm, 35mm, 50mm, 85mm, 105mm, 135mm, 200mm, and 300mm
• f = 4.9-52.5mm
• 10.7x optical zoom
• F3.5-5.6
• Lens Construction: 10 elements in 7 groups (aspheric lens: 4 elements and 5 surfaces)
Digital zoom
up to 4.8x
Focus
Contrast AF method with AF auxiliary light
• Multi
• Spot
• Face-priority
• MultiContrast AF method
• Subject-tracking AF
• Multi-target AFFixed focus method
• Manual Focus
• Snap
Focus distance
Closest focus distance 1 cm
Metering
• Multi (256 segments)
• Centre Weighted Light Metering
• Spot
ISO sensitivity
• Auto
• ISO 80
• ISO 100
• ISO 200
• ISO 400
• ISO 800
• ISO 1600
• ISO 3200
Exposure compensation
+/- 2EV in 1/3 stop increments
Auto Bracketing
+/- 5EV
Shutter speed
• 8 sec-1/1200 sec
• Movie : 1/30 – 1/2000 sec.
Shooting modes
• Auto
• Movie
• Scene auto
• Scene
• My Settings
• Continuous mode
• Creative shooting modes
Scene modes
• Portrait
• Discreet
• Night. Portrait
• Night Landscape
• Multi-shot
• Sports
• Landscape
• Zoom Macro
• Pets
• Skew Correct
• High Sensitivity
• Text
• Fireworks
• Cooking
• Golf Swing Continuous Mode
Creative shooting modes
• Dynamic Range
• Double Shot
• Miniaturize
• High Contrast B&W
• Soft Focus
• Cross Process
• Toy Camera
White balance
• Auto
• Multi-Pattern
• Outdoors
• Cloudy
• Incandescent
• Incandescent 2
• Fluorescent
• Manual
• White Balance Bracket
Self timer
• 2 or 10sec
• Custom
Continuous shooting
• Approx 5 fps
Flash
• Auto, Red-eye-Reduction, Flash On, Slow Synchro, Flash Off
• Range : Approx. 20 cm – 4.0 m (Wide), approx. 28 cm -3.0m (Telephoto)
• Flash Compensation (+/-2.0EV (1/3EV Steps)
LCD monitor
• 3.0″ TFT
• 920,000 pixels
Connectivity
• USB Hi-Speed
• Micro HDMI
• AV out (PAL / NTSC switchable)
Storage
• Internal memory 40MB
• SD, SDHC
Power
Rechargeable Battery DB-100
Weight (no batt)
176 g
Dimensions
102 x 58 x 29 mm
You may be interested in these articles:

The new Sony WX30 might need a quick firmwear update to fix the black and white (monochrome) settings

Amazing Macro Photography: The Transparent Ants Whose Multi-coloured Abdomens Show Exactly What They've Been Eating

CDs, DVDs and Blu-ray Discs are Old: New M-Disc Technology Promises Permanent Data Retention
---