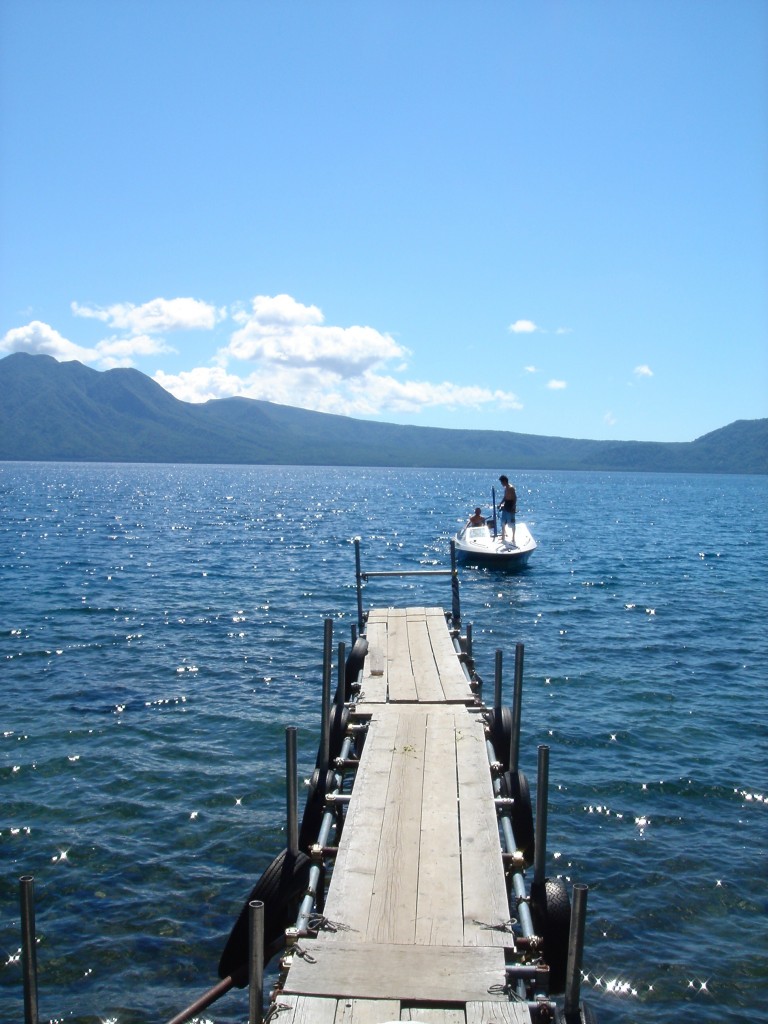 A beautiful sunny day on the lake.
Lake Toya (洞爺湖・とうやこ・touyako) can be found in the Abuta District of Hokkaido, Japan. It is a volcanic caldera lake in Shikotsu-Toya National Park. The stratovolcano of Mount Usu lies on the southern rim of the caldera. The circular lake is 10 kilometers in diameter East to West, and 9 kilometers from North to South. The lakes biggest town, Toyako Onsen (洞爺湖温泉・とうやこおんせん) is located on its western shore. The town Toyako is located on the other side of the lake.
Lake Toya is said to be the northernmost lake in Japan that never ices over, and the second most transparent lake in Japan. Nakano-shima, an island in the middle of the lake, houses the Toya Lake Forest Museum.
Lake Toya was called Kim'un-to (キムウン (kim'un) means "in the mountain" and ト (to) means "lake") by the Ainu. In the Meiji era, Japanese pioneers named the lake Toya after the Ainu expression to ya, which means "lakeland."
Location
Iburi Subprefecture, Hokkaidō
Coordinates
Coordinates: 42°34′44″N 140°51′16″E
Lake type
oligotrophic crater lake
Primary inflows
Ō River (大川 Ō-gawa), Soubetsu River (ソウベツ 川 Soubetsu-gawa)
Primary outflows
Sōbetsu River (壮瞥川 Sōbetsu-gawa)
Basincountries
Japan
Max. length
10 km (6.2 mi)
Max. width
9 km (5.6 mi)
Surface area
70.7 km2 (27.3 sq mi)
Average depth
117.0 m (383.9 ft)
Max. depth
180 m (590 ft)
Water volume
8.19 km3 (1.96 cu mi)
Shore length1
46 km (29 mi)
Surface elevation
84 m (276 ft)
Frozen
never
Islands
Nakano-shima
Settlements
Soubetsu, Hokkaidou, Touyako, Hokkaidou