Business Cards
Original Card Design
Are you happy with your current business cards?
When designed right, these pocket-sized advertisements
can leave a lasting impression and create
life-long customers from anyone you meet.
Let's make you some original business cards.
55mm x 91mm
Printed Cards or Print-ready Files.
---
① Initial Design Fee for the Cards
Starting at 1,100 yen (tax inc.)
(Roughly 20 Minutes Work)
+
② 30 cards
Starting at 1,100 yen (tax inc.)
(Initial Design Fee ① + Printing Fee ②)
② 100 cards
Starting at 2,750 yen (tax inc.)
(Initial Design Fee ① + Printing Fee ②)

---
The same design with another person's name: + 550 yen (tax inc.)
(1 person, company or group with any of the same contact details)
*Printing fees are to be paid before printing starts.
Design samples can be sent online,
if at least 50% of the total payment has been made. 
Paper samples can be checked at our office.
---
Designing a double sided bespoke card usually takes around 2 to 2 and a half hours.
6,600 yen (tax inc.) to 8,250 yen (tax inc.)
 In this time, we set the colors of files and assets for the printing process selected, do design work in Illustrator, and edit/mask photos in Photoshop if needed.
---
If you would like to see samples of business cards we have made, you will have to make an appointment and come to our office near Sapporo Station.
Company business cards or personal business cards are a so-called face which can express the personality of a person.
Every single business card should be a means of expressing impact with a method.
There are also ways to make it comfortably, but it is also possible to give a strong impression to the opponent or to express mind with this one piece by design etc.
I believe it is good, when cards work as a bridge between you and your customers.
Business Card Order Form
* Note: For those ordering business card design work,
the order form below requires a telephone number.
This number does not have to be used on the actual business card though.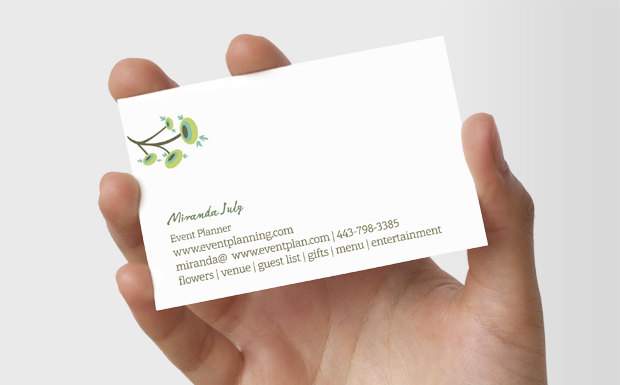 Get professionally printed cards easier
We recommend the best type of printing for your card design,
and can explain the differences between each type of printing process.
Including the pros and cons involved.
The 3 main types of printing
Below are a few samples for reference,
and a short explanation about the 3 types of printing we usually use.
---
1. On Demand Printing is used for most jobs, as it is high quality but cheaper than offset or laser printing.

With this printing process, you might not be able to get solid blocks of color (100% fills) but most people won't notice the tiny dots as they are usually only about 0.05mm to 0.08mm in size. Below are a few pictures showing red text (22pt with a weight of 684) made with 100% magenta and 100% yellow. The line thickness of this font is about 1.3mm.

The gray line on the far right (image 4a) is 65% black and 0.75 pixels (0.265mm) wide.
The dots that make up lines in on demand printing are usually straight and you can get nice gradients or shades of gray.
---
2. Offset Printing is great for designs with photos, especially faces. The dots that make up the image are close but usually on a slight angle.
The dots that make up lines are slightly diagonal so it is a little harder to get super clean gray lines.
---

3. Laser Printing is great for printing out cards when you are in a rush or if you need something straight away. Toner is slightly expensive so this is best for simple text based designs, not full color cards.
Laser printer paper: Single sided A4 sheets cost about 327 yen. Double sided A4 sheets cost about 477 yen. The cards are 91mm x 55mm. There are 10 cards per sheet. This does not include the design fee. The thickness of the card stock is about 0.20mm.
---
Paper selection
Most offset cards are made using 220 g/m2 (0.27mm) white matt coat card stock.
But thinner cards can also be made (180 g/m2), if you want to squeeze more cards into a card case.
---